In the first session, Silvia Coderoni presented how the outcomes of the 1st stakeholder workshop (June 2020) were processed. The policy team grouped the 24 policy scenarios looking at the 9 post-2020 CAP objectives suggested by the stakeholders into three groups: 1) climate change action, 2) preserve biodiversity, ecosystem services and environmental care, and 3) increase competitiveness. She also presented the results of the analysis of the policy scenarios by the modelling team regarding their potential to be modelled at different spatial scales. All scenarios in Group 1 can be modelled, most of the scenarios in Group 2 can be modelled, and more than half of the scenarios in Group 3 can be modelled.
Marta Pérez-Soba introduced the current version of the MIND STEP indicator framework, including the data sources reviewed and the selection process targeted towards indicators assessing impacts of EU agricultural policy. JRC in collaboration with UCSC and WR have produced a consolidated list of 83 indicators. Marta presented the outcomes of the questionnaire recently run among stakeholders about completeness of the indicator list, the relevance of indicators for the three scenario groups, and the number of indicators needed to assess the policy impacts. She compared the views of the stakeholders with those of the modelers, and showed the most "voted" indicators, as well as the new ones proposed by the stakeholders.
The presentations were followed by the discussion of emerging questions: 1) what is the ideal number of indicators to assess the impact of a policy? 2) Can the new indicators proposed by the stakeholders be modelled?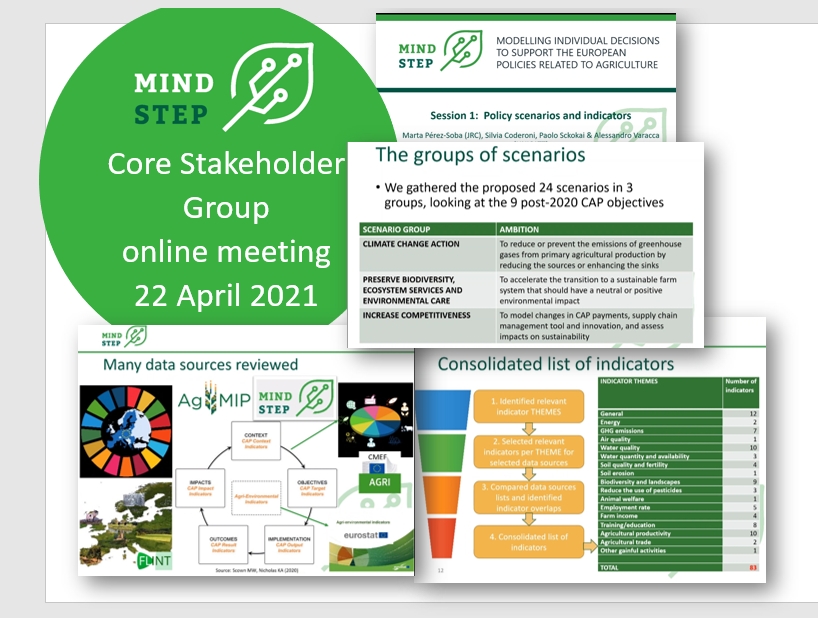 In the second half of the workshop John Helming presented the MIND STEP model toolbox in details, and Hugo Storm from UBO illustrated the use of the toolbox for a selected scenario "Mandatory reduction of input use" using FarmDyn and Agripolis. The presentations were followed by a discussion where stakeholders presented their views on the appropriateness of the toolbox, and how the models and tools should be developed and tested to created trust in them.
We thank our core group stakeholders for their active participation in MIND STEP 2nd stakeholder workshop, and particularly for providing their insightful opinions about the indicator framework and modelling approaches. Their views will guide our future steps and legitimate the MIND STEP outcomes.