The 96th Annual Agricultural Economics Society (AES) conference was organized in Leuven, Belgium, on 4-6 April 2022. Presentations during the first days varied from the role of risk perceptions in adopting a pesticide-free production system, climate resilience, use of pesticides, farm systems and economic conditions in the U.S., digitalization of agri-food trade, and how Covid 19 affected agricultural management in regions in India.
The second day's topics consisted of the tariff systems, agricultural subsidies and political events in the U.S. Also, the programme included themes such as farm management, the continuation of discussions on climate change in Nigeria and Russia, behavioural drivers, food and security, farm safety, and animal welfare. Within the session on behavioural drivers, Scarlett Wang, a team member of MIND STEP partner Wageningen University (WU), presented her research paper on Dutch farmers' intention to adopt climate mitigation measures. At the beginning of the presentation, she mentioned MIND STEP and what is the role of WU in the project. The third day of the meeting consisted of various workshops, such as Drivers of the Transitions for more Ecological Farming across Europe and also water use, consumption analysis and a session on agroforestry, agroecology and carbon sequestration.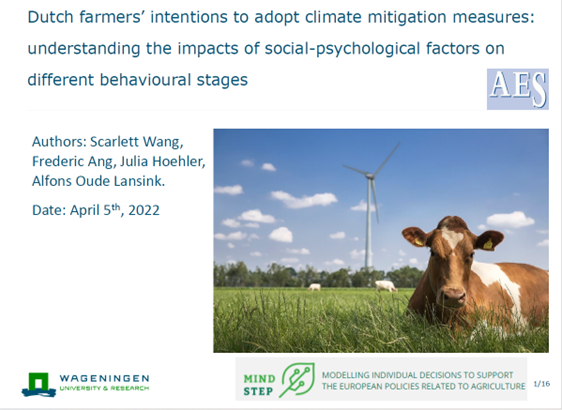 The AES is an organization which was founded in 1926 with the aim of promoting the study and teaching of disciplines related to agriculture, environment, society, and relevant industries. Its annual conference in 2023 will take place in Warwick, UK. If you would like to check the final programme of this year's conference, visit this link.